Thanks to Peter Polanco for inviting me to take these photos
before the facility is rebuilt and the Collins Model 21-E is removed from the site.
Collins 21E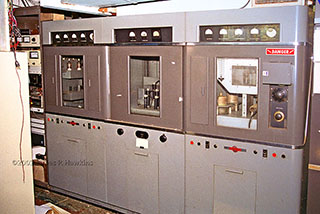 Driver Cabinet, Power Cabinet and Power Amplifier Cabinet
From left to right, Audio and RF Driver Cabinet, Power Supply Cabinet, and RF Power Amplifier and Modulator Cabinet.
Power Supply Cabinet: Mercury vapor rectifier tubes (replaced with plug-in solid state diode modules)
All units have their relay controls inside the bottom panel.
From Manual: Controls description diagram.
Driver Cabinet

Final Amplifier
and Modulator cabinet
On RF Power output cabinet:
PA Loading, Plate Tuning
Grid Tuning
Tube Compliment For the 21E

Quantity

Type

Purpose

1
6AU6
Crystal Oscillator
1
6SJ7
Buffer or Multiplier
1
807
Amplifier
2
4-125A
Driver
1
3X2500A3
Final Amplifier
2
6SJ7
Audio Amplifier
2
4-125A
Driver Amplifier
2
3X3000A1
Modulator
1
5U4G
Exciter Bias
2
866A (Replaced with Solid State Diodes)
Final Amplifier Bias
2
866A (Replaced with Solid State Diodes)
Low Voltage Plate Supply
2
872A (Replaced with Solid State Diodes)
Intermediate Plate Supply
6
575A
High Voltage Plate Supply
From Manual:
Bottom of cabinet on the left shows cooling blower for modulator and final tubes. Top shows enclosure shield for output network.

Top of cabinet on right shows enclosure shield for audio output network.
View of transmitter building and antennas.
Driver RF Chassis on left.
Audio Chassis on right.
Cooling fan for power supply
cabinet.
RF Amplifier choke, fixed
capacitor and variable vacuum
capacitor.
Chain couplings for
controls. I don't know
which.
Solid state diode modules,
that replace the mercury
vapor tubes. (No exciting
flickering to watch!)
5KW Harris SX-5 transmitter,
that replaces the 21E.
I was told at this writing that
it will become the Aux and be
replaced by a Nautel XR3.
Two views of 3X3000A1 Modulator tubes.
3X2500A3
One of two, Final
tubes behind
tuning and loading
controls.
Two views of area in back of Collins
Power Transformer

3 Phase HV Plate transformer
View from above.
3 Phase HV Plate transformer
3 Phase 208 or 230 V Delta Primary
3 Phase 3910 V Wye Secondary
Generators Roaching Out, Outside
Work Shop

Latitude: 41° 11' 37.4" (41.1937°) north
Longitude: 73° 44' 20.5" (73.739°) west