Jim Hawkins' WNEW Transmitter Page
---
WNEW 1130KHZ New York, NY - 1964
50KW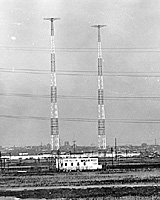 WNEW Transmitter building and towers. This photo was kindly provided by Bob Kozlarek WA2SQQ.
---
Rewind to 1939

The present WADO site was once
the home of WNEW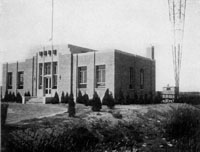 1939 Photo of WNEW
Photo: Western Electric "Pick-Ups"
magazine April 1939
1926 Western Electric model 5B
5 KW transmitter. Prior to this
installation, the transmitter served
WAHG in Long Island, then WABC.

Photo: Western Electric "Pick-Ups"
magazine April 1939

Aerial view of WNEW site.
Notice: No NJ Turnpike

Photo: Western Electric "Pick-Ups"
magazine April 1939
---
Fast Forward to 1964
WNEW 50KW Westinghouse 50HG-2 Transmitter
This transmitter model is also featured on my WOWO page in full color and technical detail.

Showing the transmitter on left and audio and phoneline patch panels with 10KW transmitter in the back. This building needed no heating system. The forced air blowing through the 5671 tubes. heated the building.

One of the two, 5671, air cooled tubes used for the final amplifier in the 50KW transmitter. The cabinet contained four of these, over 1 foot diameter, tubes. The modulator was appropriately equipped with this tube type.
| | |
| --- | --- |
| Closup of meter panel with a hinged cover over this panel, which dropped down to make a convenient little desk! | Left end of 50KW transmitter showing 2 cubicles, the left of which is the control and distribution buss and the right containing the AF & RF drivers. |
The building, in Kearny, NJ is now abandoned and overgrown with weeds and can be seen from the NJ Turnpike just north of the Pulaski Skyway. The 1130KHZ frequency and station were bought by Bloomberg. WNEW was bought by the NY Times and was shifted to 1560 where WQXR AM used to be. The call letters WQXR and WNEW were combined to form the new WQEW call letters. WQEW broadcasted American Popular Standards and retained some of the original DJs. WQEW ended this format on midnight on December 28, 1998.
| | | |
| --- | --- | --- |
| One of the 2 WNEW towers. | Westinghouse 10KW Standby transmitter | 25KW Modulator Cubicle for 50KW final, contains four, 5671, air cooled tubes. Two in foreground are active, two in background are not powered. These cabinets had windows on both sides. You can see the engineer through the opposite, front window. |
---
Color Pictures
Taken by employees of WNEW
| | |
| --- | --- |
| | |
| Westinghouse 50HG-2 | Auxiliary Equipment Racks |
---
TIMBER!
WNEW Transmitter tower coming down after transmitter was moved. This photo was kindly provided by Bob Kozlarek WA2SQQ, taken when he was working at WMCA. This is truly a rare site, thanks for providing this photo, Bob!

The WNEW transmitter site was relocated to Carlstadt, NJ in 1969. When WNEW AM ended it's broadcasting in 1992, the Carlstadt site became that of WBBR. I visited the (former WNEW)/WBBR site on April 19, 2000. Visit my WBBR Transmitter Page to see what became of WNEW AM after its move. The original Continental transmitter and newer Nautel transmitter that was used by WNEW is still used by WBBR.
---
R.I.P.
The top hats of the WNEW towers
lying in the water like dead dinosours
as they appeared 6/6/1998.
(NJ Turnpike in background)
---
WNEW AM MOVES TO CARLSTADT
Aerial views

(photos supplied by WBBR)

View of transmitter site - May 1969.

View of tranmitter building - May 1969.

Tower #2 April 1969.
Note the pattern of radials on the
ground. Click on image for a better
look.
---
New Transmitter Building
Under construction May 16, 1968
---
New Towers
Towers 1 & 2
October 24, 1967

Towers 3 & 4
December 11, 1967

New Transmitters
Brand, spanking new Continental 317-C
June 13, 1968

Continental 317-C transmitters in
operation.
April 1969

WNEW Transmitter toom showing Aux.
equipment racks - April 1969.

Layout is reminiscent of the Kearny site.
---
Phasors and Matching Units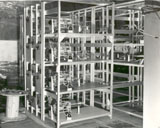 Phasing Unit before Sheild
Mesh added.
Tower #1 Trap & Matching
May 1968

Tower #4 Trap & Matching
May 1968
Continue to the
WBBR
page for the rest of the story.
---
| | | |
| --- | --- | --- |
| Accessed | | times since May 17, 2000 |


---